Venue
MEMEA 2013 Venue
Université du Québec en Outaouais (UQO) 283 boulevard Alexandre-Taché, Pavillon Alexandre-Taché Gatineau J9A 1L8 Québec Canada
Together with Ottawa, Gatineau forms Canada's National Capital Region which is located in the central part of Canada at the junction of the Ottawa, Rideau and Gatineau Rivers. The Ottawa/Outaouais Region, covering an area 4,662 square km (1,800 square miles) in size, is unique in its history, geography and lifestyle. It offers a wide variety of urban attractions: many of Canada's best museums and cultural facilities, as well as the Parliament Buildings and other historical structures and major institutions. The Canadian Museum of Civilization and Parc de la Gatineau tops the list of "must-see attractions" in Gatineau.
Ottawa-Gatineau has been described as one of the most beautiful capitals in the world. Less than an hour's drive from the American border, the National Capital enjoys the attributes of a major center for the visual and performing arts, as well as other big city attractions. The National Capital of Canada is a bilingual (English and French) and multi-cultural city and has a population of about 1.5 million people.

Ottawa-Gatineau still maintains the accessibility, atmosphere and charm of a smaller city, in addition to access to spectacular park and wilderness areas located within and around the cities.
A large international airport serves the region with numerous domestic and international flights daily. Overseas access is quite easy, either by direct flight from London and Frankfurt, or with connections through Toronto, Montreal, Newark, New York, Chicago, Detroit or Washington DC.

Hotels:

Even though the organizers do not recommend any specific hotel, a non-exhaustive list of possible accommodations located in Ottawa-Gatineau is provided here for participants convenience. Please inquire directly with the hotels for information and reservation:
1. Crowne Plaza Gatineau-Ottawa Plz Chaudiere, 2 Rue Montcalm, Gatineau, QC,
2. Four Points by Sheraton Hotel & Conference Centre Gatineau-Ottawa, 35 Laurier Street Gatineau, QC
3. The National Hotel & Suites, 361 Queen St, Ottawa, ON
4. Ottawa Marriott Hotel, 100 Kent St., Ottawa, ON
5. Radisson Ottawa Parliament Hill, 402 Queen Street, Ottawa, ON
6. Delta Ottawa City Centre, 101 Lyon Street, Ottawa, ON,
7. Capital Hill Hotel & Suites, 88 Albert St., Ottawa, ON
8. Fairmont Chateau Laurier, 1 Rideau St., Ottawa, ON
9. Lord Elgin Hotel, 100 Elgin St., Ottawa, ON
10. Novotel Ottawa,33 Nicholas St., Ottawa, ON
11. Westin Ottawa, 11 Colonel By Drive, Ottawa, ON

Weather:

Early spring is still quite cool in the region, with daytime temperatures in March and April near or below 10°C. May brings a noticeable warm-up, with daytime temperatures averaging near 20°C, which sparks an outburst of spring flowers. Visitors should bring long sleeved tops, as well as long pants and a lightweight jacket.

Tourist Information
Those wishing to plan excursions in Canada before or after the Conference can obtain maps, accommodation lists and descriptions of sites of interest from the tourism services of each Canadian province:
Ontario http://www.ontariotravel.net/
Québec http://www.bonjourquebec.com/
Newfoundland & Labrador http://www.gov.nf.ca/tourism
British Columbia http://www.hellobc.com/
Alberta http://www.travelalberta.com/
Saskatchewan http://www.sasktourism.com/
Manitoba http://www.travelmanitoba.com/
New Brunswick http://www.tourismnbcanada.com/
Nova Scotia http://www.explorens.com/
Prince Edward Island http://www.peiplay.com/
Please check the website at http://www.travelcanada.ca for further information.


Travel Information
Directions by car:
Coming from Ottawa Centre (Wellington Street) - Head southwest on Wellington St toward Lyon St, slight right onto Portage Bridge. Entering Quebec. Take the 1st left onto Rue Laurier Ouest, Continue onto Boulevard Alexandre-Taché. The Université du Québec en Outaouais (UQO) campus will be on the left after 1.5 km.
Coming from Montreal - Take Trans-Canada Hwy 417. Turn left to merge onto ON-417 West toward Ottawa. Take exit 121A toward Av. Bronson Avenue. Merge onto Catherine St. Turn right onto Bronson Ave. Turn left onto Somerset St West. Turn right onto Booth St. Entering Quebec. Continue onto Chaudières Bridge. Turn left onto Boul Alexandre-Taché. The Université du Québec en Outaouais (UQO) campus will be on the left after 1 km.
Bus information:
For bus connections from Ottawa check OC Transpo: http://www.octranspo.com, Tel. +1-613-741-4390,
For bus connections from Gatineau check STO: http://www.sto.ca, Tel. +1-819-770-3242.

Venue Map: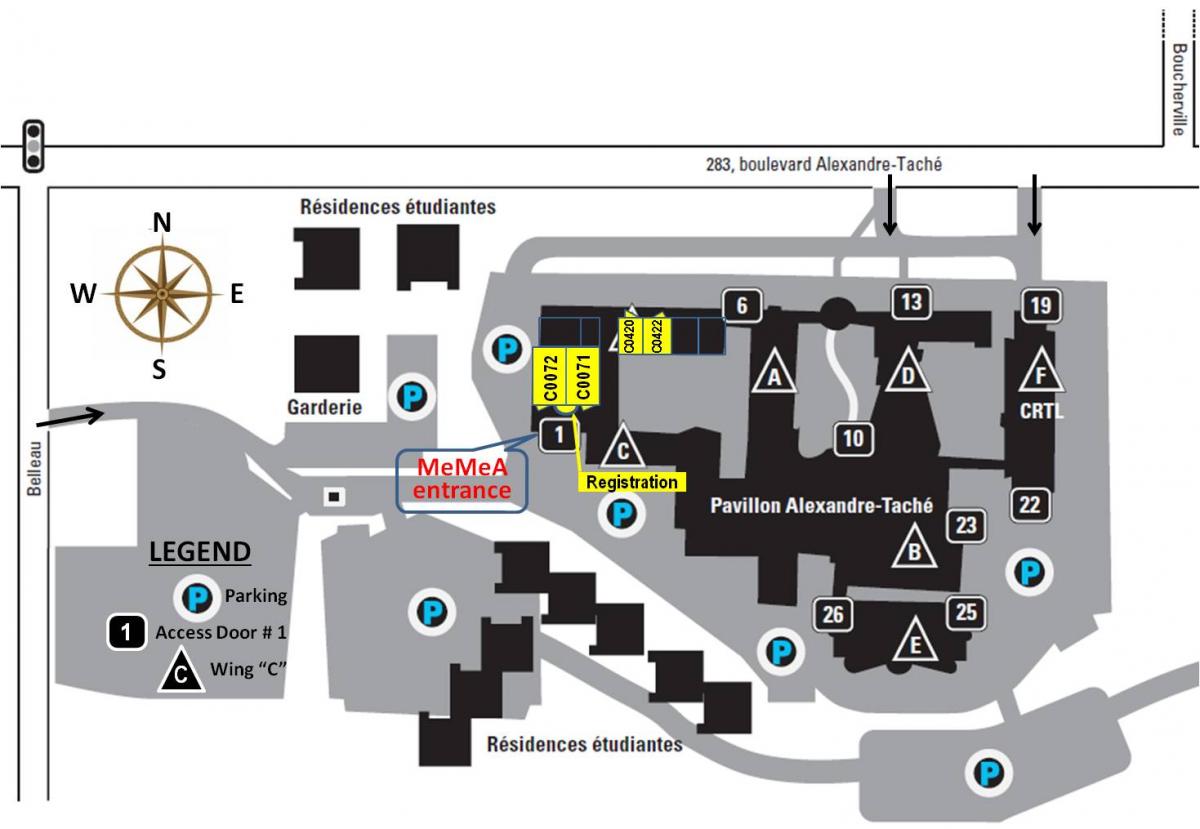 Google Map:
http://maps.google.ca/maps?f=d&source=s_d&saddr=&daddr=283+Boulevard+Alexandre-Tach%C3%A9,+Hull,+Qu%C3%A9bec&geocode=FQQYtQIdQFZ8-ynLlVl_ewTOTDHuxn-hlpcasg&hl=fr&mra=ls&sll=49.891235,97.15369&sspn=38.725296,113.818359&ie=UTF8&ll=45.420986,-75.733652&spn=0.040966,0.111151&z=14